Chatter Creek Ciders
Our Modern Ciders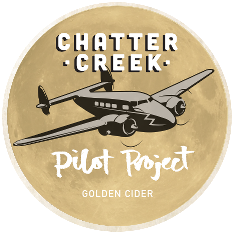 Pilot Project, Golden Cider
This is a winemaker's take on how to make cider. Balance and structure are the keys for a cider that is perfect to accompany cheese, charcuterie, seafood and chicken. Even hot or spicy dishes are enhanced by this cider. Truly a cider for the table!
This structure is achieved by blending ciders crafted from English bittersweet apple varieties for aroma and mouth-feel with sharper dessert apples to refresh the palate. The cider is golden in color where the acidity and sweetness are in balance and present a natural apple flavor. Light tannins, notes of honey, stone fruit and pineapple are presented with a medium carbonation.
ABV 6.9%, rs 20g/l, CO2 2.0 volumes.
Abailable in 500ml bottle $10 and in 1/6 barrel (20lt) keg $225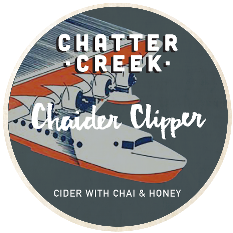 Chaider Clipper, Cider with chi spices
Complex spice notes are well balanced with fresh apple tartness to deliver warmth and brightness. Perfect as crisp autumn sun gives way to the damp chill of winter.
Chaider Clipper is infused with a personal chai spice blend and then sweetened with clover honey. Black pepper and cardamom shine along with wonderful aromatics adding to the fruitiness of the blended cider. A touch of honey enhances the aroma and balances the sharp apple but does not add sweetness. It all comes together as spicy, robust and elegant.
ABV 6.9%, CO2 2.0 volumes.
Abailable in 500ml bottle $10 and in 1/6 barrel (20lt) keg $225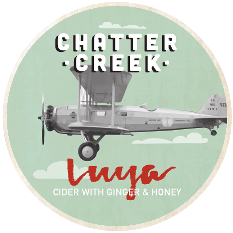 Luya, Cider infused with Ginger
We go the extra mile using fresh ginger root, cut and pressed to produce a sweet and pungent ginger essence. We do not macerate the root that could add notes of bitterness or use concentrate.
Luya is blended and sweetened further with Clover Honey. The ginger and apple aromas play nicely together. It has a fresh ginger snap that supports the fruit characters of the cider. The ginger is refreshing and lingers on the palate. Perfect for a hot summer day or quite fireside contemplation. Pairs exceptionally well sweet and hot foods. BBQ and stir-fries have met their cider match.
ABV 6.9%, CO2 2.0 volumes.
Abailable in 500ml bottle $10 and in 1/6 barrel (20lt)=(40 bottles) keg $225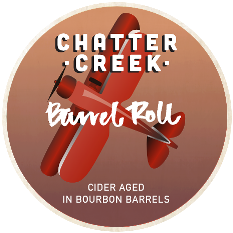 Barrel Roll, Apple Cider aged Whiskey Barrels
This cider is aged for four months in American Oak Bourbon Whiskey barrels from JP Trodden distillery, our neighbors in Woodinville, WA. It is bone dry and displays the balance of oak and apple aromas and a light acidity. With a light straw appearance, the cider is low in final carbonation so as to allow the vanilla and whisky notes to shine.
ABV 9.1%, CO2 2.0 volumes.

Our Traditional Ciders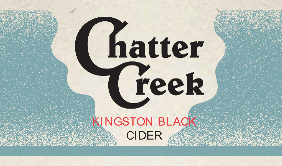 Kingston Black, Bitter Sharp Cider
Kingston Black apples originated in the West Country counties of England and are widely considered the most complete true cider apple. We source Washington grown Kingston Blacks and ferment long and slow to produce a traditional cider with full aroma, body and finish. Pair Chatter Creek, Kingston Black Cider with grilled meats and vegetables, smoked salmon and local cheese and charcuterie. ABV 9.5%, rs 5g/l, CO2 2.0 volumes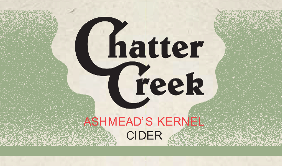 Ashmead's Kernel, Bitter Sharp Cider
An old world apple discovered in the 18th Century, Ashmead's Kernel originated in Gloucestershire, England and has been delighting cider makers ever since. Our varietal ciders are custom pressed from Washington grown apples and slowly fermented to retain their beautiful aromas, bright mouth feel and lasting finish. We have kept this cider off-dry to maintain the fruit's natural brightness and food friendly character. Chatter Creek's Ashmead's Kernel is the perfect pairing with shellfish, grilled halibut or any hot and spicy delicacy. ABV 9.5%, rs 5g/l, CO2 2.0 volumes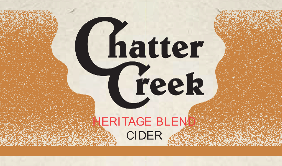 Heritage apple blend Cider
Chatter Creek Cider's Heritage Blend honor the orchardist by applying decades of wine making experience to craft a cider using the perfect blend of heirloom apples to achieve a delicate balance of bright fruit, full body, and lasting finish in a true wine-style cider. Our Heritage Blend cider is semi-sweet to balance the acidity and bring out the fruit in a very approachable fine cider. Invite the Heritage Blend to your table and enjoy with any creamy sauced pasta, roasted chicken, or a cheese and fruit plate. ABV 9.5%, rs 22g/l, CO2 2.0 volumes
Seasonal Ciders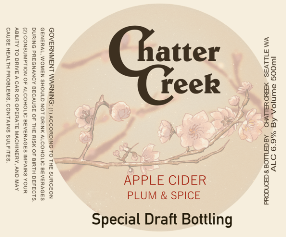 Plumb and Spice
Released around the holidays.

Built on a semi-sweet dessert apple base, plum juice and chai spices are blended in for a cider touting sharp-tartness from the thick-skinned plum juice. Warming, spiced fruit fills a palate full then quickly dries and shows spice more as seasoning than sweetness, finishing tart, tangy and festive. Now available in our on line store.
ABV 6.5%, rs 30g/l, CO2 2.0 volumes.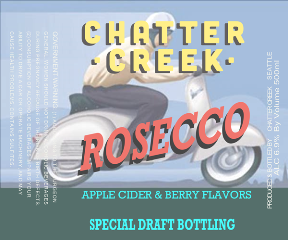 Rosecco
A year round favorite.

At Chatter Creek, we know a thing or two about Rosé. Our Rosécco cider brings a refreshing suite of mixed berry to a crisp and dry cider. A full fruity nose introduces a depth of flavor that satisfies while sipping on a sunny summer deck or backs smoked salmon and chevre hor d'oeuvres.
ABV 6.5%, CO2 2.0 volumes


Nochthexen,(Night Witches) Apple Cider with Blackberry, Sumac, Nutmeg and Cinnamon
This cider is dry and lightly plumb in color with moderate apple flavor. The infusion of Blackberry , sumac, nutmeg, and cinnamon come together in a refreshing way. Nice tannin gives adds a nice backbone and carries the finish.
ABV 6.5%, rs 5g/l, CO2 2.0 volumes.